PURCHASING AT VS EYEWEAR FAQS

Can I make a purchase without having a VS Eyewear account?
Yes, you can simply make a purchase as a Guest. However, if you choose to create an account, you will be able to save your prescription information and other preferences that will make future shopping at VS Eyewear simpler and more convenient.
How long does an order take?
Most prescription orders generally take about 7-14 business days to process before shipping. Depending on the options you chose, your order could process faster or slower.
Can I return my prescription glasses for a refund?
Our return policy on prescription eyewear is that it is non-returnable for a refund because the lenses are a custom job. You can return the glasses within 30 days for a refund of the frame cost only, or, if you'd prefer a remake, we can apply a significant amount of what you paid for the first pair towards a remake. If the glasses are made incorrectly we will remake it at no cost.
Why is VS Eyewear less expensive than competitors?
Most competitors do not own their own lab and must purchase your prescription lenses from an outside optical lab. Our supplier houses two full prescription optical labs, one for plastic and the other for glass. Because of this, we cut out the middle-man, allowing us to offer lower retail prices.
Why can I order a higher prescription wrap online, yet you tell me I'm not a candidate for a wrap because my prescription is too high?
Because of the complicated nature of prescription lenses in wraparound frames, there are many variables which work together to decide whether a prescription wrap will work for you. We are working on developing a new system online which will be more thorough in preventing you from ordering wraparound glasses if you are not a candidate for them, but until then our system only prevents those with very high prescriptions from ordering. Those who are on the cusp are the only ones who may be able to order even though a wrap won't work for them. Be advised that we do allow customers to cancel for a full refund if they order a frame that won't work for them and aren't interested in switching to one that will.
Why do you have dark lenses pictured on your website when the product has clear lenses?
Our prescription order page allows you to order your glasses with whatever type of lenses you choose. If you choose clear lenses instead of a dark lens, your glasses will come with clear lenses. Frames are generally pictured with dark lenses only if they're commonly ordered with dark lenses. Those that are generally ordered in clear are pictured with clear lenses, but all of our prescription eyewear is available with lens color options.
Do you have any stores near me where I can try your glasses on?
We do have a storefront in Bangor PA where we stock a broad range of our frames as well as an abundance of finished glasses. You can also purchase frames for fit. If you are not satisfied with the frame you can return for a full refund or we can send out another you may be interested in. You can order multiple frames at a time. When you are ready to return them for fill we will apply a credit of the frames you didn't select towards your fill.
FRAMES

How do I know my glasses are OSHA compliant?
If you need basic impact safety glasses for work in the United States, order prescription safety glasses that are marked as ANSI Z87 Approved to ensure that you are OSHA compliant on a job site.
Can I buy frames without any lenses?
Yes, you can purchase frames only without lenses. If you decide you would like to purchase lenses later, you can send your frames back to us and we will add prescription lenses to them.
How do I figure out what frame size is right for me?
Check the insides of your current eyeglass or sunglass frames, and you may be able to find your size numbers printed right on the inside.
Can I try on your glasses at home before I commit to buying them?
When you purchase frames only from VS Eyewear, you have 30 days to decide if you want to keep them, or if you want to receive a full refund. All our frames come with this money back guarantee, making it possible for you to try on anything you like in the comfort of your home.
Will I get a case with my prescription glasses?
Yes, all of our prescription eyewear comes with a case and microfiber pouch.
LENSES

How do I know which lens material to choose?
The right material for your lenses will depend upon your prescription.
For light prescriptions, plastic lenses ranging from no correction to +/-1.75 work best.

For people with prescriptions ranging from +/- 2.00 to +/-4.00, polycarbonate lenses, which are 30% thinner and lighter than plastic, are recommended. Children under 18 years of age and people with active lifestyles will also benefit from polycarbonate, due to its impact-resistance. Rimless and semi-rimless frames also work best with polycarbonate lenses.
Like polycarbonate lenses, Trivex lenses are thinner and lighter than plastic, offer superior scratch and impact resistance, and are perfect for children and those with active lifestyles. But because Trivex lenses are cast-molded (as opposed to polycarbonate lenses, which are injection-molded), they offer better clarity for both central and peripheral vision, and tend to be slightly more expensive than polycarbonate lenses.

Glass is scratch resistant and provides the clearest possible vision. While it is the most durable lens on the market, it is also heavy and shatters more easily than plastic lenses. For this reason, glass lenses should never be worn by children.

For people with prescriptions of +/- 2.00 and greater, Hi-Index lenses are recommended. They are thinner than plastic lenses and help reduce the high-prescription distortion of your eyes that people see when they look at you through your glasses.
What kinds of lens coatings do you offer?
Scratch-resistant coating and edge polishing are automatic features of our lenses. We offer additional coatings that can be added a fee:

AR Coating (Anti-Reflective) improves both the vision through the lenses and the appearance of the glasses, as the coating reduces the reflections on the lenses themselves. It also reduces eye fatigue, making it a must-have coating for any pair glasses.

(Note: AR coating is not good for outside glasses, dusty dirty environments and or constant cleaning. The lenses must be wet before they are cleaned.)

Scratch Coating is a clear, hard coating that makes lenses more resistant to scratching.

UV (Ultra Violet) Protection is a coating on the lens that keeps the sun's UV rays from harming our eyes. Overexposure to ultraviolet light is thought to be a cause of cataracts, retinal damage and other eye problems. We include this clear coating with all polycarbonate and hi-index lenses as well as any plastic lenses that use other additional coatings. Note: Anti-UV treatment is not necessary on polycarbonate lenses, because it is an inherent property of the material.

Mirror Coating is a highly reflective coating that keeps others from seeing our eyes and reflects the glare of the sun. The mirror coating only works on standard sunglasses such as: gray, brown, and G-15 tints, polarized lenses. They will not work on transitions, Drivewear or clear lenses.
Anti-Fog Coating is a permanent coating that makes the lenses more resistant to fogging both on the front and back sides of the lenses. Lenses are still capable of fogging, but they are less likely to.
Should I get an anti-reflective (AR) or an anti-glare coating?
Anti-reflective (AR) and anti-glare coatings are one and the same coating. It's a coating that helps minimize light reflections that occur on both sides of your glasses.
I am having trouble seeing clearly with my progressive lenses? Why is this?
It takes some time to adjust to wearing progressive lenses. Because there are different corrective powers within the lenses, your eyes and your mind will need to learn to adjust. Often it will take a week or more to completely adjust.
If you continue to have problems, but your eye doctor is able to verify that the prescription is accurate, it may be that the frames simply aren't sitting correctly on your face and can be adjusted to fit more precisely.
My Transitions® lenses don't seem to change colors. Why?
Transitions® lenses have to be exposed to direct UV rays before they will change. Depending upon weather conditions they may get more or less dark from day to day.
Transitions lenses will not darken in a car, because most windshields have UV filters built into them. However, Transitions® does offer Xtractive and Drivewear lenses that do darken in the car. Learn more about Xtractive, Drivewear and other Transitions® products on our Transitions lenses info page. Get more information on our Transitions lenses information page.
How are bi-focal and progressive lenses different?
Bifocal lenses have two different areas of viewing: the upper part of the lens is used for distance and helps you see far away, while the lower part for the lens is used for reading and helps you see up close. These two areas are separated by a visible line in the lens.
Progressive lenses offer a non-line, seamless gradation from distance to intermediate to near vision, and all of the points in between. The vision offered via progressive lenses is a much more natural than that of bi-focals, making it worth the adjustment period.
Can I buy lenses without frames?
Yes, you may purchase prescription lenses only at VS Eyewear. But because we will need to cut the prescription lenses to fit your exact frame, you will have to send us the frame they are intended for.
Can you replace the lenses I have in my current frame?
Yes, we can replace the prescription lenses in your current frame. However, you must send us your eyeglass or sunglass frames before we can process your order because we will need to cut the prescription lenses to fit your exact frame. Additionally, you must speak with an optician before you send us your frames.
We can only replace sunglass lenses in your current frame if they are prescription sunglass lenses.
I am going to go to my eye doctor soon for a new prescription. Should I do anything special before I go?
You can order a few of our frames to try on (they are fully returnable for a refund within 30 days), and bring in the one you like best to your optometrist so they can measure you with the frame on. You can also print out the order page for those glasses from our site and have your eye doctor write in your prescription and lens options on the sheet to make ordering easier at home. Before you go, we suggest checking online using an old prescription to ensure that your prescription works in the frames you're trying on. If you find that your numbers aren't available in the drop-down menus on our site, chances are your prescription won't work in that frame. Conversely, if your old prescription fits, chances are that your new prescription will work in that frame.
PAYMENT & INSURANCE

May I use my vision insurance to pay for my glasses or contacts?
For most vision insurance plans, VS Eyewear will be considered an out-of-network provider; however, you can submit your VS Eyewear purchase for reimbursement by following the steps outlined on our Vision Insurance informational page.
May I use my flex spending or health savings account (HSA) to pay for my glasses or contacts?
Whether or not you have vision insurance, flex spending and health insurance account funds can, in fact, be used for prescription eyewear. Get more information on our Flex Spending page.
SHIPPING

I ordered prescription glasses 2 days ago and I paid for 2-day delivery—why don't I have my glasses yet?
Your glasses will be shipped via UPS 2nd Day Air when they are finished, but your shipping option does not affect the order's processing time. Most orders take about two weeks to be processed prior to shipping.
Why can't you ship insured?
All orders shipped via UPS are insured up to $100. If we insured any higher, your shipping costs would increase.
Can I get more shipping information?
Yes, you can visit our shipping information page.
INTERNATIONAL SHIPPING

Do you ship internationally?
Yes. If your order is shipping internationally (outside of the U.S.) it may be subject to import duties and taxes, which are levied once the package reaches the destination country. VS Eyewear has no control over these charges and cannot estimate what they will be. Any charge that might be incurred is the customer's responsibility. VS Eyewear is not responsible for ANY duties, taxes or broker fees that may be charged to your shipment. For further information please contact your local customs office.
Are there any additional fees associated with international shipping?
Yes, and we will contact you to inform you of the duties and taxes you owe with your order.
Are there any international addresses that you can't ship to?
Yes, because of trade restrictions, there are a few countries that we cannot ship to. We will inform you if you attempting to ship to a location we cannot ship to at this time.
There are also a few particular brands that we are not allowed to export, and we will let you know of this, as well.

What are single-vision glasses?
Single-vision glasses wearers are either near sighted or far sighted, but not both. Because they only need one vision type corrected, we use the term Single-vision in reference to corrective prescription lenses that do not have multiple viewing areas, as progressive lines and bi-focals do.
How do I measure my pupillary distance (PD)?
The pupil distance is the distance (measured in mm) between the center of your pupils when looking far away in the distance. All prescriptions require a pupil distance (PD) measurement. Your PD remains constant (does not change) and is usually on record at your eye doctor. The average PD for an adult male is 65mm and female is 63mm. The PD may be noted as a (two-number) monocular measurement somewhere between 26mm – 36mm; the first number denotes the right eye. You may also have a distance and near PD, as your pupils are slightly closer when looking at a book or something else near your eyes. See our video on how to measure your pupil distance.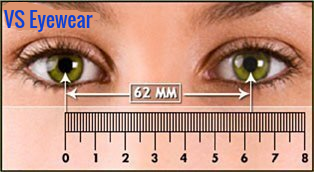 You can measure your own PD using a mirror and a millimeter ruler
Place the ruler flat against your forehead and with your right eye closed, line up the zero on the ruler with the center of your left pupil. With your left eye closed, take a reading of the ruler at the center of your right pupil. If you have difficulty seeing what you are doing, then use a magnifying mirror. If it is easier, line up the outside of the iris of one eye with the inside of the iris of the other eye and use that
measurement.
What is the segment height of my glasses?
The segment height is the distance (in millimeters) from the bottom of your lens to the top (or beginning) of your bifocal. For lined (Flat-Top) bifocals, your segment height is generally measured from the bottom of the lens to the top of your bottom eyelid. For progressive (no-line) bifocals, your segment height is measured from the bottom of the lens to the center of your pupil. In both cases, you need to have the frame in-hand to measure segment height. We recommend leaving segment height blank for lined bifocals as the standard height works for most people. For progressives, it's a good idea to order the frame first to get the measurement just right.
Do I need segment height for a progressive bifocal? How do I measure it?
If you're getting a progressive bifocal, we recommend ordering a few frames (without lenses) to try on and figure out which you like best (frames without lenses can be returned within 30 days for a full refund). Once you've decided which frame you like, you can measure your segment height by having someone measure from the bottom of the lens pocket to the center of your pupil while wearing the glasses and looking straight ahead. Segment height is measured in millimeters. Make sure to measure both eyes and give us the average between the two measurements for your segment height. Once it's measured, you can return the frames and order the full progressive prescription glasses with your segment height. We can set segment height at a standard for progressives if you'd prefer; for many people, this works fine, but it is not ideal.
Do I need segment height for a lined bifocal (FT-28 or FT-35)?
In a lined bifocal, segment height is optional. If you're getting a lined bifocal, you can measure segment height if you'd like, but it requires ordering the frame and trying it on before getting the lenses. Most people are fine with a standard segment height with a lined bifocal (FT-28 or FT-35); for standard segment height, you can leave the "Segment Height" field blank.
Why won't my prescription work in this frame?
Wraparound frames and frames with large lenses have limits when it comes to prescription capabilities. Wraparounds can cause distortion for stronger prescriptions because of the curvature of the lens. Frames with larger lenses (including wraparounds) also have limits on what pupil distances will work in them. This has to do with the size of our lens blanks; we can only move your optical center so far from the center of an uncut lens while maintaining enough room to edge it to the shape of your frame. This is especially true for bifocal prescriptions.
Why is it that you can do my prescription in a wraparound but my eye doctor can't?
Our facility is geared towards prescription safety eyewear and sunglasses. Because wraparounds are more popular (and more functional) than safety glasses with side shields, our facility makes a lot more wraparound prescriptions than the average eye doctor. We have special, state-of-the-art lens surfacing and edging equipment capable of creating prescriptions in frames that many labs are forced to avoid. We can often make prescriptions in wraparounds, where other labs can't because of the specialized nature of our facility and the experience of our team.
EYEWEAR CARE

What is the proper way to clean my eyewear?
You can clean your glasses with warm water and a mild dish soap, and then dry them with a soft cotton towel or a special microfiber cleaning cloth made for glasses. You can remove any build-up from around the nosepads using a soft toothbrush, being careful not to scratch the lens.
In general you should avoid using rough materials like paper towels to dry your glasses, which can scratch your lenses as well as your frames. Cleaners that contain ammonia (like Windex) and lotions (for instance, hand soaps), can damage your classes and should also be avoided.
What is the proper way to care for my eyewear?
Never your glasses in a hot vehicle, as the high heat could damage the frame and lenses. Try not to touch your lenses with your hands to prevent any contact with dirt and oil particles that might scratch them. Always use a case to protect your glasses when you're not using them.
How do I keep dust and wind from getting around my lenses and into my eyes?
We sell prescription safety glasses with foam lining the lenses on the inside of the frame. Many of these glasses also allow you to remove the foam. Check out the Wiley X Climate Control series and Bobster Eyewear to find most of our eyewear with foam gaskets like this. You can also look at our prescription safety goggles.
ADJUSTING YOUR FRAMES

How do I adjust my glasses so that they fit better?
We adjust our glasses to a standard fit before shipping them. Should you find they need further adjusting, we recommend you visit an optical store, which will likely adjust your glasses for you, free of charge.
Do not try to adjust your glasses yourself. Force and bending can damage your glasses and even cause them to break.
GENERAL

Which of your glasses are best for fishing?
Any of our wraparound style eyewear will work. We recommend getting polarized brown lenses with a mirror coating to cut down on glare and allow you to see into the water.