Protect Your Eyes With Visionaries Polarized Clip-ons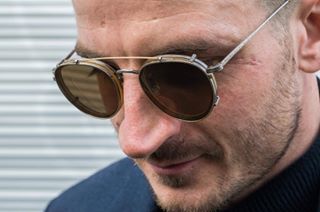 Sunglasses and prescription lenses don't always mix. Prescription sunglasses exist but are often a bit pricey and aren't always in a style you like. Similarly, taking off your prescription lenses to wear sunglasses isn't a very good solution if you want to be able to see. That's what makes a middle group like Visionaries so invaluable.
Visionaries is a brand of polarized clip-on lenses that attach to your normal prescription glasses to convert them into sunglasses. Simple to use and reasonably price, they're a great compromise between both ends of the spectrum. It's almost too good to be true.
These aren't some cheap plastic junk, though. Visionaries are made from quality materials like stainless steel to keep them from crumpling and breaking in your pocket. You can also get them in a ton of different styles and colors, giving you some much-needed freedom in choosing your look that's not often offered by clip-on sunglass lenses. This also includes the actual dimensions of the lenses, an important feature many overlook.
As the title suggests, Visionaries are also polarized. This gives them superior UV blocking power, allowing them to filter out 100% of solar radiation up to 400nm to protect your eyes and better shade your vision. While you still shouldn't be looking directly at the sun, you'll have a somewhat easier time doing it when you're wearing a pair of these.
There's a ton of other great things that could be said about Visionaries polarized clip-on lenses. To see exactly what they have to offer for yourself, though, head over to VS Eyewear to look through a wide selection of Visionaries and other glasses you can buy. Feel free to contact us with any questions or concerns about our clip-on lenses and any other products you might want to know more about.