What are night driving glasses? Night driving glasses are designed to enhance vision and reduce glare while driving at night. They are equipped with special lenses that help to block the blue light and minimize the impact of glare from oncoming headlights, streetlights, and other light sources.
Overall, night driving glasses are designed to make driving at night safer and more comfortable, by reducing the risks associated with poor visibility and glare. However, it's important to choose high-quality glasses that are specifically designed for night driving, and to use them in conjunction with safe driving practices, such as driving at appropriate speeds and maintaining a safe following distance.
ADVANTAGES OF NIGHT DRIVING GLASSES
1. IMPROVED VISIBILITY
Night driving glasses can improve your ability to see in low light conditions, which can reduce the risk of accidents caused by poor visibility.
2. REDUCE GLARE
Glare from oncoming headlights can be distracting and dangerous, especially for older drivers. Night driving glasses can help to reduce this glare, making it easier to see the road ahead.
3. INCREASED CONTRAST
Some night driving glasses are designed to increase contrast, which can make it easier to distinguish between objects in low light conditions.
4. REDUCED EYE STRAIN
Driving at night can be tiring on the eyes, especially if you are constantly squinting to see through glare. Night driving glasses can help to reduce this eye strain, making it easier to stay alert and focused while driving.
WHAT ARE THE BEST NIGHT DRIVING GLASSES?
There are many different night driving glasses on the market, each with its own set of features and benefits. Here are some factors to consider when looking for the best night driving glasses:
LENS TINT
As mentioned earlier, yellow lenses are often used in night driving glasses because they help to reduce glare and improve contrast in low light conditions. However, other lens tints or coatings may also be effective.
LENS QUALITY
Look for glasses with high-quality lenses that are scratch-resistant and provide clear, distortion-free vision, and block the blue light.
FRAME STYLE
Choose a frame that is comfortable and fits well, with non-slip nose pads and temples to keep the glasses securely in place while driving.
Ultimately, the best night driving glasses will depend on your individual needs and preferences. It's a good idea to try on several different pairs of glasses and compare them before making a purchase. Additionally, it's important to remember that no glasses can completely eliminate the risks of night driving, and it's always important to drive cautiously and defensively when on the road.
WHAT COLOR GLASSES ARE BEST FOR NIGHT DRIVING?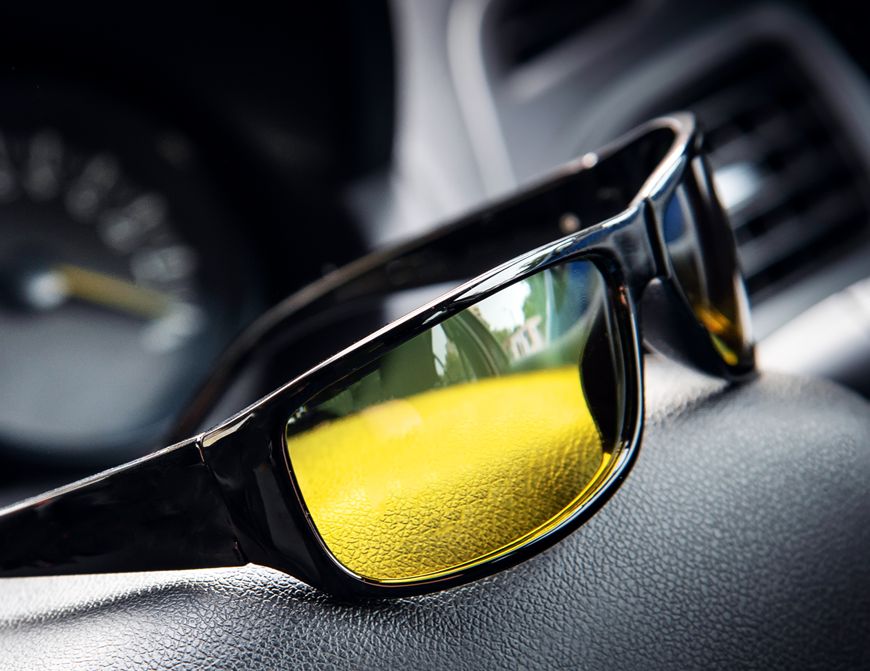 Night driving glasses often have yellow-tinted lenses because this color helps to enhance contrast and reduce glare in low light conditions. Yellow lenses work by filtering out blue light, which is the main component of glare and is often scattered by rain, mist, and fog.
When driving at night, headlights from oncoming cars and streetlights can create a lot of glare, which can be distracting and reduce visibility. The yellow tint in night driving glasses helps to reduce this glare and improve visibility by increasing contrast and sharpening images.
Additionally, yellow lenses can also help to reduce eye strain and fatigue, which is important when driving at night for extended periods of time.
It's worth noting that not all night driving glasses are yellow, and some may use other tints or coatings to achieve similar benefits. However, yellow-tinted lenses are a popular choice among night driving glasses because they have been shown to be effective at reducing glare and improving visibility in low light conditions.
HOW TO CLEAN YOUR NIGHT DRIVING GLASSES
Properly cleaning your night driving glasses will increase the lifetime of your product
Your night driving glasses may get dirty in a variety of ways. Maintenance of your night vision glasses for driving will be the same as your prescription glasses or sunglasses. Gently clean your glasses for night vision using a microfiber cloth and a gentle glasses cleaning solution.
The first step in prolonging the life of your night driving glasses is monitoring them for dirtiness and damage. If your night time driving glasses lenses are dirty, it can impact your vision. Dirty glasses affect your vision and can cause accidents to happen. Spot check your lenses every day to ensure they have not become too dirty.
KEEP YOUR NIGHT DRIVING GLASSES CLEAN
1. ALWAYS CARRY A MICROFIBER CLOTH
The microfiber cloth will be gentle on your glasses for night driving and will prevent them form getting scratched.
2. HAVE A CLEANING SOLUTION
The cleaning solution is to clean and disinfect your night driving glasses with, wiping away dirt and debris.
USE LUKEWARM WATER TO CLEAN YOUR GLASSES FOR NIGHT DRIVING
Simply submerge your night time driving glasses in lukewarm water in the sink. Additionally, if pressure is needed to help clear away the dirt.
USE PURIFIED ROOM TEMPERATURE WATER TO CLEAN YOUR NIGHT GLASSES FOR DRIVING
Submerge your night driving glasses under running temperature room water and add non abrasive dish soap. Let it dry.