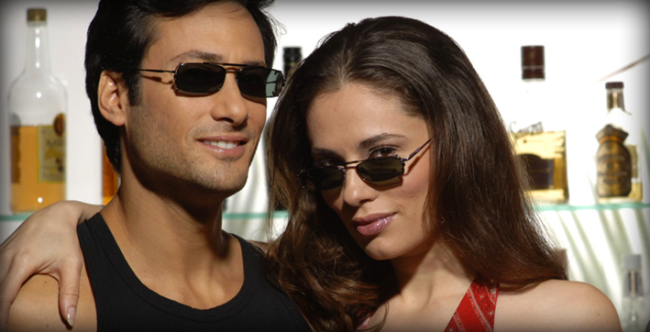 Polarized Clip On sunglasses might be the solution you've been looking for. Wearing prescription glasses and finding a good pair of sunglasses to go with them is often a struggle. Maybe they do not fit over your current frame or you find it uncomfortable to wear two glasses simultaneously. Finding the Perfect Pair of Clip on Glasses Clip-on sunglasses are the solution to that problem: with them, you can easily convert your prescription glasses to sunglasses. Following is a 19 page detailed booklet we put together to assist you in finding the proper clip on glasses.
At VS Eyewear you find the best variety and the highest-quality clip-on sunglasses on the market. Here we offer twenty shapes of Visionaries clip ons, so we have the right match for you no matter the style of your eyeglasses. Plus, the frames of our clip ons are available in multiple sizes and four different classic colors – all to give you exactly what you need. And that's not everything: VS Eyewear polarized clip on sunglasses are available in a variety of different lens colors. Here the possibilities are endless. We also offer 32 different shapes and sizes in our Clip on Flip ups in five polarized lens tints and in Night Driving polycarbonate bright yellow.
FIND THE CORRECT SHAPE
You need to consider the shape of your prescription glasses to find clip on glasses that will match the same shape. The more accurate the shape, the better the glasses will look.
MEASURING YOUR PRESCRIPTION GLASSES
To get the best fitting, you will need to measure the lens height and width of your glasses to know what size of clip on glasses you will need.
PRINT VISIONARIES CLIP ON GLASSES TRUE SIZE CHART
Printable size guides are available for all Visionaries clip on glasses. These guides were made to help you find the perfect clip on size for your prescription glasses. It is really simple!

PRINT OUT OUR 19 PAGE GUIDE HERE THAT WILL GIVE YOU ALL THE TIPS AND TRICKS YOU NEED TO BUY THAT PERFECT PAIR OF CLIP ON GLASSES. INCLUDES DETAILS FOR BOTH VISIONARIES AND CLIP ON FLIP UP SUNGLASSES.