Costa 580® Lenses
Beyond Polarized
Costa 580 lenses were designed by in-house light spectrum experts to enhance colors because standard sunglass lenses fell short. The lens' multipatented technology manages light by:
Absorbing Harmful High-Energy Blue Light (HEV)
Cuts haze and blur for greater clarity
In addition to 100% protection from UV light, 580 technology also absorbs HEV light known to cause macular degeneration, pterygium, cataracts and other eye diseases
Enhancing Reds, Greens, and Blues
Blocking harsh yellow light at 580 nm on the visible light spectrum boosts the amounts of red, greens and blues naturally, enhancing colors and contrast
Filtering Out Harsh Yellow
For enhanced color, sharper contrast and higher definition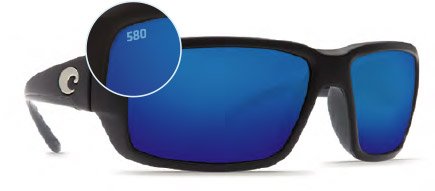 580G
LIGHTWAVE GLASS
SUPERIOR CLARITY & SCRATCH-RESISTANT
GLASS PROVIDES THE BEST CLARITY IN MATERIAL
ENCAPSULATED MIRRORS (BETWEEN LAYERS OF GLASS) ARE SCRATCH-PROOF
20% THINNER AND 22% LIGHTER THAN AVERAGE POLARIZED GLASS
U.S. PATENT NO. 6.334.680
U.S. PATENT NO. 6.604.824
C-WALL® MOLECULAR BOND
GLASS LAYER
ENCAPUSLATED MIRROR
POLARIZED FILM
GLASS LAYER
C-WALL® MOLECULAR BOND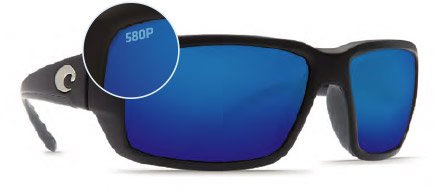 580P
POLYCARBONATE (+TRIVEX IN RX)
LIGHTWEIGHT, IMPACT-RESISTANT
POLYCARBONATE & TRIVEX ARE YOUR LIGHTEST AND MOST DURABLE LENS MATERIAL OPTIONS
C-WALL® IS A MOLECULAR BOND WHICH IS SCRATCH-RESISTANT
U.S. PATENT NO. 7.506.977
C-WALL® MOLECULAR BOND
MIRROR (OPTIONAL)
POLYCARBONATE LENS
POLARIZED FILM
POLYCARBONATE LENS
C-WALL® MOLECULAR BOND
LENS COLORS
Choosing a Lens Color
Light conditions are constantly changing. To get the most out of Costa Lenses, it's important to choose the right color. We offer seven lens colors that range from low-light like dawn to extremely bright light with blinding glare.
For offshore, blue mirror is the way to go. For freshwater and inshore, green mirror and copper are great options. For low light at dawn or dusk, sunrise silver mirror is perfect. Gray lenses are the best choice for everyday activities. Of course, the best way for you to decide is to consider your environment.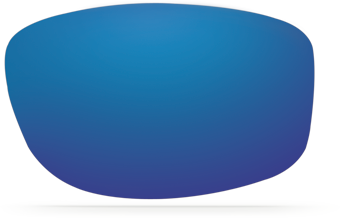 Blue Mirror
Best for bright, full-sun situations on the open water and offshore.
Best for bright, full-sun situations on the open water and offshore.
Gray Base
10% light transmission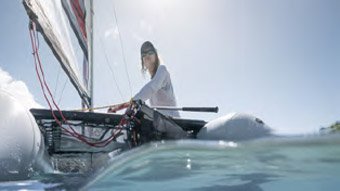 Boating and fishing in deep water
Open reflective water
Harsh sun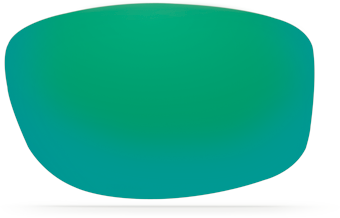 Green Mirror
Enhanced vision and contrast for fishing inshore and on flats.
Copper Base
10% light transmission
Copper Base
10% light transmission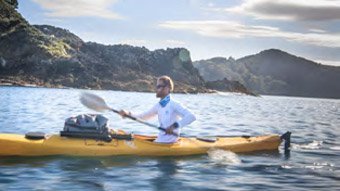 Sight fishing in full sun
High contrast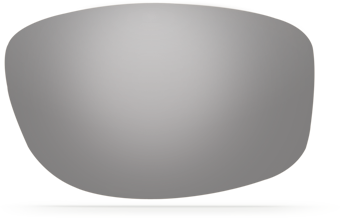 Gray Silver Mirror
A good everyday choice for activities on the water and land.
Gray base
10% light transmission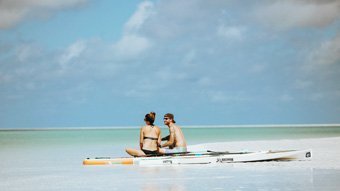 Everyday activities
Anti-fatigue
Overcast days
Reduces glare, especially off water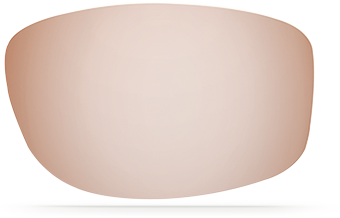 Copper Silver Mirror
Well-suited for stream fishing and other environments with varying light.
Copper base
12% light transmission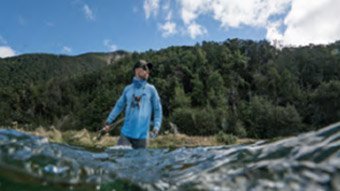 Excellent for sight fishing
Everyday activities
Most versatile
Cloudy days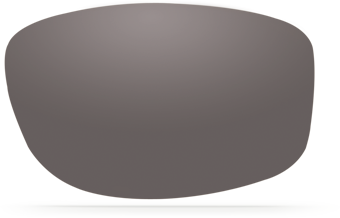 Gray
A good everyday choice for activities on the water and land.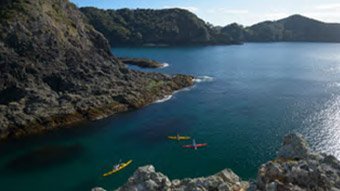 All-around activities
Natural contrast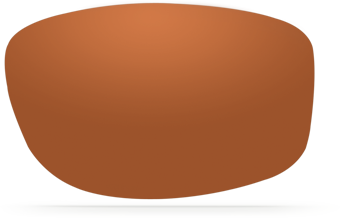 Copper
Cuts glare for eye comfort in a variety of situations, from sight fishing to driving.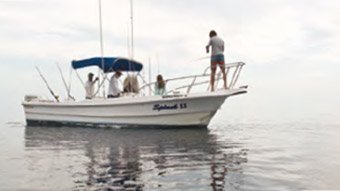 Excellent for sight fishing
Everyday activities
Most versatile
Cloudy days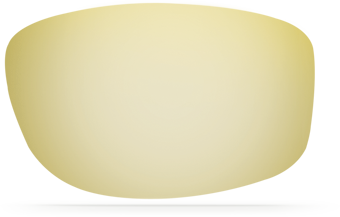 Sunrise Silver Mirror*
Extended wear lens. The perfect tool for dusk and dawn performance.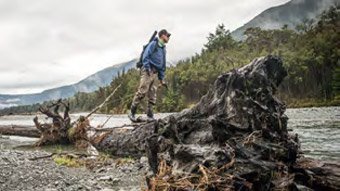 Activities during sunrise/sunset
Heightened contrast
Low light/overcast conditions

COSTA POLARIZED LENSES VS. STANDARD POLARIZED LENSES
Polarized lenses are essential for anyone who spends time outdoors – especially on the water. But, not all polarized sunglasses are created equal.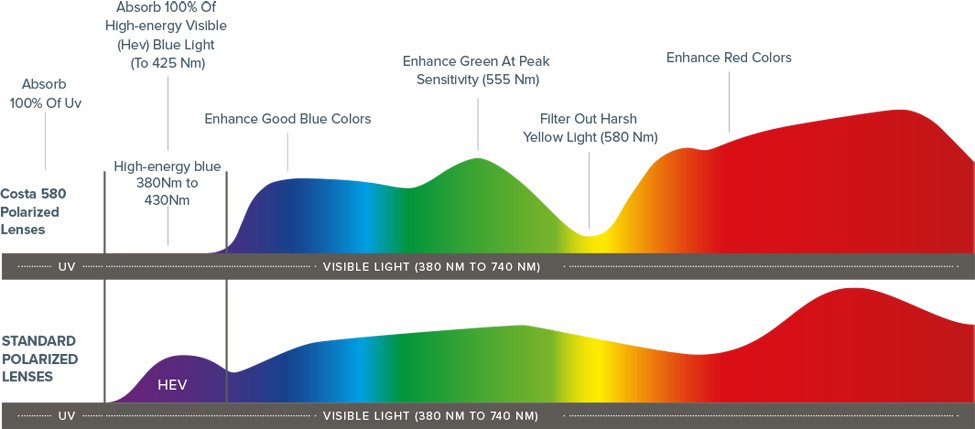 Costa is 100% polarized
Best polarizing efficiency available
Improves comfort and reduces eye strain by eliminating reflective glare
Costa only sells polarized sunglasses
Because we believe blocking reflective glare is essential for anyone on the water or outdoors, we only manufacture polarized sunglasses
C-WALL®
A molecular bond on our plastic lenses provides the most scratch-resistant and smudge-free barrier, repelling water, oil and sweat for easier cleaning.
Bayer Abrasion Test:
A 7+ rating, which beats the industry average of 3-5
Contact Angle:
Fluids bead off the lens at an angle of 116 degrees – greater than the industry standard of 105-112 degrees
A higher contact angle keeps droplets rounder. The rounder the droplet, the easier it rolls off the lens and less likely to flatten and spread out on the lens surface
The results is a smudge-free, easier-to-clean lens
MIRRORED LENSES
Shown: South Point in Palladium with Copper Silver Mirror Polarized with Costa's 580 technology.

Our mirrors are more than an aesthetic, they put Costa on the map. Made through a high-tech beam ion deposition process, these multilayered thin film coatings make for the most scratch resistant mirrors out there. By bouncing reflected light away from the eye, they deliver superior contrast and color while enhancing visual acuity. Our mirrors are available in blue, green, sunrise silver, gray silver and copper silver.