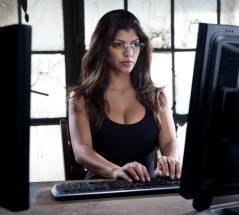 Computer Vision Syndrome (CVS) is complex eye and vision problems related to near work which are experienced during, or related to computer use. CVS is characterized by visual symptoms which result from interaction with a computer display or its environment. In most cases, symptoms occur because the visual demands of the task exceed the visual abilities of the individual to comfortably perform the task.

Computer Vision Syndrome (CVS) affects three out of four computer users. It is a series of symptoms related to extended periods of computer usage. Although it is no cause for panic, measures can be taken to relieve symptoms of CVS.

CVS can appear as a variety of symptoms. Headaches, eye strain, neck and back aches, sensitivity to light, blurred vision, double vision, and dry or irritated eyes are all possible problems related to CVS.

Any computer user can develop CVS. Your vision, your computer, and the environment where you use your computer are all factors that can lead to CVS.
There are many aspects of computers and the work environment in which they are used which may cause or contribute to the development of eye or vision difficulties. To obtain optimum visual comfort and work efficiency, all computer operators who could benefit from a visual correction should wear it. One way to help ensure this is to remove financial barriers to the employee for obtaining an eye examination and, when needed, treatment for eye and vision problems. This can often be accomplished by having an employer or third party sponsored program which provides eye care services for employees who work at computers.

As part of an eye care program for computer operators, it may be necessary to determine whether any treatment, usually in the form of eyeglasses, is specific to the computer task or whether the same glasses or treatment would be required for general vision needs. This may establish whether the employee is eligible to receive occupationally related eye care services under the program.

Whether a particular vision condition requires correction with eyeglasses or other treatment depends upon the clinical findings and the judgment of the examining doctor. However, the following criteria are recommended to help determine whether the care provided is computer related. These criteria are based upon the individual diagnosis and/or prescribed treatment. Since it is necessary for computer operators to have an eye and vision examination to determine whether these criteria are met, it is recommended that an examination be provided as part of the computer eye care program.
Vision problems occur frequently among video display terminal (VDT) workers. Most worker health surveys show that the most frequent health related complaints among workers at VDTs are visually related. However, more public and professional attention is currently being directed towards the avoidance of musculoskeletal disorders such as wrist problems (e.g., Carpal Tunnel Syndrome), bursitis, muscle strains (e.g., neck tension syndrome), tendon disorders (e.g., de Quervain's disease), and tenosynovitis (e.g., trigger finger) among others. These disorders are generally classified as Cumulative Trauma Disorders (CTD) or as Repetitive Strain Injuries (RSI).
VDT related vision problems are at least as significant a health concern as the musculoskeletal disorders. Most studies indicate that visual symptoms occur in 50-90% of VDT workers, while a study released by NIOSH showed that 22% of VDT workers have musculoskeletal disorders. A survey of optometrists indicated that 10 million primary eye care examinations are provided annually in this country primarily because of visual problems at VDTs – not a small public health issue. Vision problems are pervasive among computer workers and are the source of worker discomfort and decreased work performance.
There appears to be a communication gap regarding the nature and extent of vision problems related to VDT use. The vision problems experienced by VDT workers are varied and are difficult to grasp and understand by those who don't specialize in vision. The misunderstanding may also be the result of unfounded reports of cataracts caused by VDTs, exaggerated manufacturer claims about the need for UV and other radiation protections, and misleading statements about the effects of specialty tinted and coated lenses (e.g., computer glasses) among other products.

In order to improve communication and understanding of the vision problems at computers, the American Optometric Association supports the use of the term "Computer Vision Syndrome" (CVS) to broadly encompass the visual problems experienced at VDTs. CVS can be used to refer to the entirety of visual problems experienced by computer users and therefore improve communication and understanding of these problems. However, since there is not a single factor or visual disorder which causes the visual problems at computers, CVS encompasses many different symptoms, disorders and treatments.
Impact of Computer Use on Children's Vision
When first introduced, computers were almost exclusively used by adults. Today, children increasingly use these devices both for education and recreation. Millions of children use computers on a daily basis at school and at home.

Children can experience many of the same symptoms related to computer use as adults. Extensive viewing of the computer screen can lead to eye discomfort, fatigue, blurred vision and headaches. However, some unique aspects of how children use computers may make them more susceptible than adults to the development of these problems.
The potential impact of computer use on children's vision involves the following factors:
Children often have a limited degree of self-awareness
Many children keep performing an enjoyable task with great concentration until near exhaustion (e.g., playing video games for hours with little, if any, breaks). Prolonged activity without a significant break can cause eye focusing (accommodative) problems and eye irritation.
Accommodative problems may occur as a result of the eyes' focusing system "locking in" to a particular target and viewing distance. In some cases, this may cause the eyes to be unable to smoothly and easily focus on a particular object, even long after the original work is completed.

Eye irritation may occur because of poor tearflow over the eye due to reduced blinking. Blinking is often inhibited by concentration and staring at a computer or video screen. Compounding this, computers usually are located higher in the field of view than traditional paperwork. This results in the upper eyelids being retracted to a greater extent. Therefore, the eye tends to experience more than the normal amount of tear evaporation resulting in dryness and irritation.
Children are very adaptable
Although there are many positive aspects to their adaptability, children frequently ignore problems that would be addressed by adults. A child who is viewing a computer screen with a large amount of glare often will not think about changing the computer arrangement or the surroundings to achieve more comfortable viewing. This can result in excessive eye strain. Also, children often accept blurred vision caused by nearsightedness (myopia), farsightedness (hyperopia), or astigmatism because they think everyone sees the way they do. Uncorrected farsightedness can cause eye strain, even when clear vision can be maintained.
Children are not the same size as adults.
Since children are smaller, computers don't fit them well. Most computer workstations are arranged for adult use. Therefore, a child using a computer on a typical office desk often must look up further than an adult. Since the most efficient viewing angle is slightly downward about 15 degrees, problems using the eyes together can occur. In addition, children may have difficulty reaching the keyboard or placing their feet on the floor, causing arm, neck or back discomfort.
Children often use computers in a home or classroom with less than optimum lighting
The lighting level for the proper use of a computer is about half as bright as that normally found in a classroom. Increased light levels can contribute to excessive glare and problems associated with adjustments of the eye to different levels of light.
Steps to Visually-Friendly Computer Use
Here are some things to consider for children using a computer
Children have different needs to comfortably use a computer. A small amount of effort can
help reinforce appropriate viewing habits and assure comfortable and enjoyable computer use.

Have the child's vision checked. This will make sure that the child can see clearly and comfortably and can detect any hidden conditions that may contribute to eye strain. When necessary, glasses for computer vision syndrome, contact lenses or vision therapy can provide clear, comfortable vision, not just for using the computer, but for all other aspects of daily activities.



Strictly enforce the amount of time that a child can continuously use the computer. A ten-minute break every hour will minimize the development of eye focusing problems and eye irritation caused by improper blinking.



Carefully check the height and arrangement of the computer. The child's size should determine how the monitor and keyboard are positioned. In many situations, the computer monitor will be too high in the child's field of view, the chair too low and the desk too high. A good solution to many of these problems is an adjustable chair that can be raised for the child's comfort, since it is usually difficult to lower the computer monitor. A foot stool may be necessary to support the child's feet.



Carefully check the lighting for glare on the computer screen. Windows or other light sources should not be directly visible when sitting in front of the monitor. When this occurs, the desk or computer may be turned to prevent glare on the screen. Sometimes glare is less obvious. In this case, holding a small mirror flat against the screen can be a useful way to look for light sources that are reflecting off of the screen from above or behind. If a light source can be seen in the mirror, the offending light should be moved or blocked from hitting the screen with a cardboard hood (a baffle) attached to the top of the monitor. In addition, the American Optometric Association has evaluated and accepted a number of glare screens that can be added to a computer to reduce glare. Look for the AOA Seal of Acceptance when purchasing a glare reduction filter.

Reduce the amount of lighting in the room to match the computer screen. Often this is very simple in the home. In some cases, a smaller light can be substituted for the bright overhead light or a dimmer switch can be installed to give flexible control of room lighting. In other cases, a three-way bulb can be turned onto its lowest setting.
Children have different needs to comfortably use a computer. A small amount of effort can help reinforce appropriate viewing habits and assure comfortable and enjoyable computer use.
Courtesy of the AOA
More than half of all computer operators experience eyestrain, headaches, blurred vision and other symptoms directly and indirectly related to increased, sustained nearpoint visual stress. Visual stress also may underlie complaints of general body fatigue, reduced efficiency at work and higher error rates as the day progresses.

Optometrists have found that most of these symptoms are alleviated through a combination of correcting workstation conditions, posture, stress-relieving lenses prescribed specifically for computer operation, and in some cases, through improving visual skills with vision therapy.
Today, the majority of people, including children, are computer users. If what has been learned about vision and computers is ignored, millions will discover that visual stress can generate serious, often permanent vision and eye problems.
Humans have hunter-soldier eyes, essential to survival for spotting game or danger at a distance. But during the past half century, nearly all our work and much of our recreation has shifted to seeing within arm's length. The resulting nearpoint visual stress, despite 20/20 distance visual acuity, often produces both temporary and sometimes permanent adaptive changes, including nearsightedness, suppressed vision in one eye, poor eye teaming and reduced performance both at work and at play.
Although computer manufacturers have vastly improved their products, some computer operators find their existing visual difficulties with nearpoint visual activities are complicated by sometimes blurred characters, an increase in the number and complexity of necessary eye movements and focusing shifts, and by sometimes poor lighting conditions, glare and distracting reflections. Flicker also plays a role in visual stress.

Changes in the way work is done will affect many first-time computer users. Jobs which formerly allowed physical movement and opportunities to look away from near work now require extended, tiring concentration on a computer screen image.
Many people who could handle the visual stress of intermittent near work simply cannot deal with prolonged nearpoint tasks.
Direct Visual Signs and Symptoms
Headache accompanying or following computer use
Eyestrain | Irritated eyes | Blurred vision
Slow refocusing from close at copy /screen to distant objects
Frequently losing place when moving eyes between copy /screen
Difficulty seeing clearly at distances after prolonged computer use
Occasional or frequent doubling of vision
Changes in color perception
Present lens prescription fails to relieve symptoms
Indirect, Visually-related Signs and Symptoms
Neck or shoulder tension, pain
Back pain
Excessive physical fatigue when using computer
Irritability increases when using computer
Pain in arms, wrists or shoulders when working
Increased nervousness
Lowered visual efficiency
More frequent visual efficiency errors
The optometrist's recommendation may be the key to making work less stressful, less painful, and more productive. And, you may avoid the onset of more permanent visual and eye conditions now observed by optometrists among their computer-using patients

Symptoms and discomfort are the warning signs that something must be done to reduce the possibility of serious, permanent vision or eye problems that can alter and diminish the quality of life.

Computer Workstation Suggestions
Keyboard, screen and copy should, ideally, be at equal distances from the eyes.
Computer screens should be slightly below eye level (about 10-20 degrees). Copy should be at the same level as the screen.
Locate keyboard so wrist and lower arm are parallel to the floor or angled slightly downward.
Chairs should provide proper back support and be adjustable without tools by the operator.
Adjust chair height so feet are flat on the floor with thighs parallel to the floor.
Adjust the worktable so legs and knees clear its underside.
Screen brightness and contrast should be adjusted by the operator for maximum viewing comfort.
Each workstation should have an adjustable shaded copy lamp that can be aimed by the operator without causing screen reflections or direct glare into the eyes.
Eliminate glare and screen reflections by moving or tilting the screen. Overhead lights may need baffles. Try not to face toward windows or bright light sources.
Operators should face into an open space beyond the computer screen.
Clean computer screen regularly; they attract and accumulate dust.
Adjust screen focus and image alignment frequently to reduce visual stress.
Vision and performance are enhanced by taking a short break (15 minutes) every two hours. Demanding computer workloads usually require a short change from work each hour. Stop every 15 minutes to look up and away from the computer to focus on a distant object.
Please click here to find our collection of Computer Glasses.